Each month Federal Service for Intellectual Property (Rospatent) receives approximately 7 thousand trademark applications. Registration is obtained only by 4 thousand.
In total, there are more than 420 thousand active trademarks certificate issued by Rospatent.
Russian legislation provides a possibility to register word, device, and combined trademarks in multiple classes.
It's not necessary, but highly recommended conduct preliminary searches before filing trademark registration.
It will help to avoid any issues: Russian Patent Office will refuse to register mark, which is identical or confusingly similar to the filed trademark applications or registered trademarks in respect of similar goods and services. Also, trademarks recognized as well-known and protected geographical indications will prevent to register new similar sign.
There are two options how trademark search in Russia could be conducted: do preliminary trademark searches on free online database of Federal institute of Industrial property (FIPS) or order official search in national and international databases.
Preliminary online trademark search in Russia
The website of Federal institute of Industrial property provides the possibility of free online searches in the database of intellectual property rights objects.
The database is accessible on this link https://www.fips.ru/iiss/search.xhtml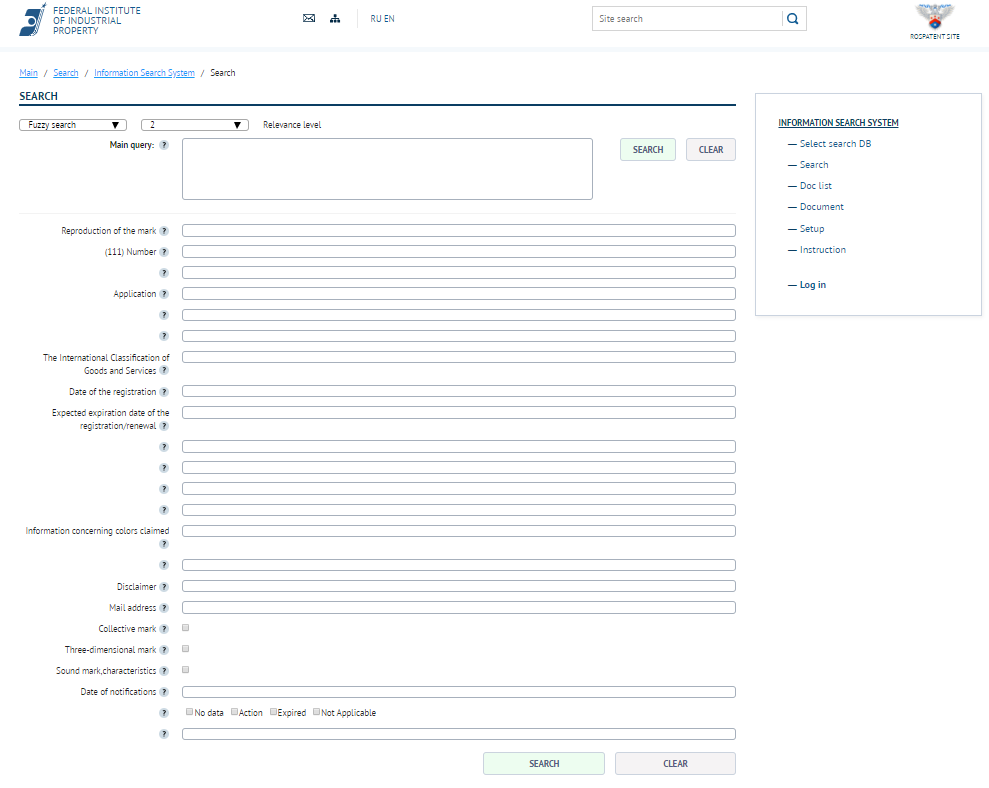 Database contains information on registered trademarks in Russian Federation according to the national procedure, which have published in Official bulletin. Information on filed trademarks presented only by designations passed a formal examination and displayed only for applicants who know exact trademark registration number.
Nowadays, the term between submitting application and official publication last 8-10 months. It means, that free online database does not contain thousands of trademark applications.
Despite interface of online database is available on English, all information in the register is conducted in Russian: name and address of the holder/applicant and description of goods and services will be understandable only for Russian speaking users.
Also, a page with information about registered trademark contains data on officially registered license agreements on using sign on the territory of the Russian Federation, history of changing of address for correspondence, etc.
In addition to a number of parameters by which it is possible to conduct search, the system allows to use a number of filters for more precise search settings. The description of the filter is highlighted by clicking on the symbol "?" next to the corresponding field.
To obtain registration either written in Latin or Cyrillic alphabet is common practice in Russia. Despite free online database should show all related results both in Russian and English versions of trademark, the system not always display it.
Official Trademark search in Russia
Not to miss potentially important information on submitted application, it's better to conduct proper official searches in all databases.
Official fees for conducting trademark searches in databases of Rospatent*
Name of service
Term of search – 20 business days, USD
Term of search – 10 business days, USD
Term of search – 5 business days, USD
Term of search – 3 business days, USD
Preliminary search for word sign, per class

– each additional Class

67

17

134

34

201

51

402

102

Preliminary search for device sign, per class

– each additional Class

134

29

268

58

402

87

804

174

Preliminary search for combined sign, per class

– each additional Class

201

46

402

92

603

138

1206

276
*Rates are set in Russian ruble and amount in USD depends on current exchange rate
To gain access to the FIPS search system, new users must register, pay online or conclude an agreement and pay invoice on a bank account.
It's much cheaper and efficient to conduct searches with the assistance of Russian trademark attorney, who will run searches via special databases and provide results in easy-to-use format.
Crane IP Law Firm provides full range of legal services for trademark registration in Russia: searches, registration, renewal, drafting and registration of assignment and license agreements, monitoring of competitors and infringers activities, etc.
Search results provided by our firm contain all submitted applications and registered trademarks that are similar or identical to Client's trademark. The analysis includes also any relevant issues and recommendations for a smooth registration procedure.
If you have any additional questions as to Trademark registration procedure in Russia, please contact us info@craneip.com