The Court of Intellectual Rights of the Russian Federation dismissed the claim of the Holding company Businessinvestgroup regarding the abolition of the legal protection of the trademark 'Soviet pharmacy' («Советская аптека»).
The combined sign 'Soviet pharmacy' was registered in 2015. The sign consists of the word element 'Soviet pharmacy' in a red square, written in two lines with the original font in white. In the upper part is depicted a bowl twined around by a snake. Moreover, the word 'pharmacy' and the bowl are unprotected trademark elements.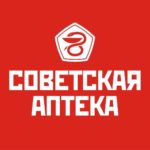 In 2018, Businessinvestgroup appealed to Rospatent with an objection to register 'Soviet pharmacy', justifying it with the fact that in 2014 it registered a confusingly similar trademark 'Soviet' («Советский»).
However, Rospatent rejected the Businessinvestgroup's claims, indicating that the signs are not similar and are used in different areas – 'Soviet pharmacy' is registered in Class 44 of ICGS, while 'Soviet' in 29, 30, 32, 35 and 43.
The owner of the trademark 'Soviet' appealed against the refusal of Rospatent in court, but the judges of the first instance confirmed the decision of the State service. The court of cassation also upheld the decision.
The word 'Soviet' has many positive associations in Russia, especially among middle-aged and older people. This designation can be perceived as a sign of high-quality goods at a very fair price. Therefore, business is trying to use various signs that evoke associations with the Soviet times.